The Story of Adam and Eve - P2
And the Lord said to Cain, "Where is Abel, your brother?"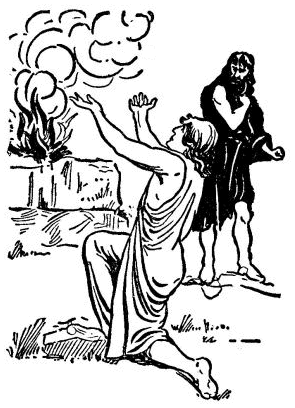 And Cain answered, "I do not know; why should I take care of my brother?"
Then the Lord said to Cain, "What is this that you have done? Your brother's blood is like a voice crying to me from the ground. Do you see how the ground has opened, like a mouth, to drink your brother's blood? As long as you live, you shall be under God's curse for the murder of your brother. You shall wander over the earth, and shall never find a home, because you have done this wicked deed."
And Cain said to the Lord, "My punishment is greater than I can bear. Thou hast driven me out from among men; and thou hast hid thy face from me. If any man finds me he will kill me, because I shall be alone, and no one will be my friend."
And God said to Cain, "If any one harms Cain, he shall be punished for it." And the Lord God placed a mark on Cain, so that whoever met him should know him and should know also that God had forbidden any man to harm him. Then Cain and his wife went away from Adam's home to live in a place by themselves, and there they had children. And Cain's family built a city in that land; and Cain named the city after his first child, whom he had called Enoch.
[ End of Story ]