---
---
Featured Seasonal Bible Lesson Activity Pages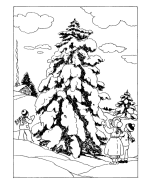 Review all of our classic Coloring Pages
Bible Story Sheets
Printable Bible Story sheets that help teach and explain the Stories in the Bible
Bible Story pages augment your Bible study or Sunday School Class. These bible story sheets make great "story telling aids" to help you teach, (and students young and "older" remember) the specific events within a bible story. - For Young Learners - Print out the Bible Story you want to teach here and read it to your class.... and also, print a number of Bible Story coloring pages as an activity for your students as you read / teach then the story. - For Older Learners - Print out enough of these Bible Story Sheets to give everyone in your class a copy !

Review our collection of Bible story sheets, they are gathered together by Bible Story to help you find what you are looking for easily and quickly.
---
Old Testament Bible Stories

Favorite Old Testament stories from Adam and Eve, to David and Goliath.

Printable Bible Stories from the Old Testament for use in Sunday School Classes, and Vacation Bible School and for a good bedtime story.

New Testament Bible Stories

Favorite New Testament stories from Zacharias and Elizabeth , through the life of Jesus.

Printable Bible Stories from the New Testament for use in Sunday School Classes, and Vacation Bible School and perfect for a bedtime story.

Favorite Modern Bible Stories

Delightful and touching stories of "modern times" that teach a lesson, contain a moral, or help us relate the stories of Jesus to young children.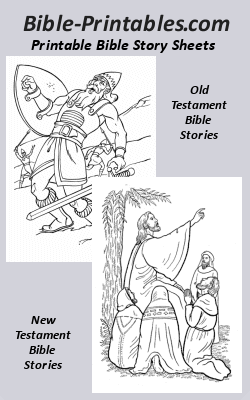 Printable Bible Stories
Bible Stories Sheets - Learning & Teaching Resources
Bible Story sheets are intended to:
- Provide a new resource for a favorite story in the Bible
- Complement the Bible Coloring Pages section of this website
- Serve as a Sunday School or VBS class lesson aid
- Provide supplemental materials to existing lesson plans
- Provide additional depth and variety to the bible lesson materials you plan to use

The box to the right is a Pinterest Pin-It Ad Box ! .....Pin it NOW !!!
---
How to use Bible-Printables.com
Bible-Printables - Strives to be the higest quality provider of teaching /Learing resources for use in teaching Bible Stories, in Sunday School, VBS or any Christian educational activity !
Individuals, teachers, instructors and clergy may print the free materials provided on Bible-Printables.com for their own personal, or class, (non-commercial) use only, provided that they retain and display all copyright and/or source marking on the materials. You may NOT reprint, redistribute, save electronically, modify, transmit, post to a web site, forum, blog etc. any materials from the Bible-Printables web site without express written permission from Bible-Printables.com. Teachers and instructors may include the materials in PRINTED class projects, packets, booklets, or handouts as long the finished product is not a "For Sale" product. Please consult our Privacy/Terms Pages for further information!

We hope to make your bible education learning and teaching easier and more captivating. Thank You for visiting Bible-Printables, come back often to see new material as we grow!
Printable Bible Lesson Activity Pages
Printable Bible Coloring and Activity Pages are fun to use in Sunday School Classes and Vacation Bible




Plus +1 Me





---
---
---
---
---